Halloween 2012 MacXDVD Software, Inc. gave away free copies of their "MacX DVD Ripper Pro" as a special "Halloween Edition". This was a very generous gesture which I would like to explicitly recognize and thank them for.
When I recently wanted to reinstall that piece of software on my new MacBook Pro Retina and tried to enter the serial number I noticed that you can't — the software said that it had expired. I was very disappointed. I didn't remember that you had to activate the software before the end of the promotion. So I set back my system clock to November 2012, and presto, I could install the software again. 🙂
After I ripped a DVD I set back the date to the current date, only to notice later when I wanted to rip another DVD that the software had expired(!). It does not explicitly say so, but it "lies" to you as follows: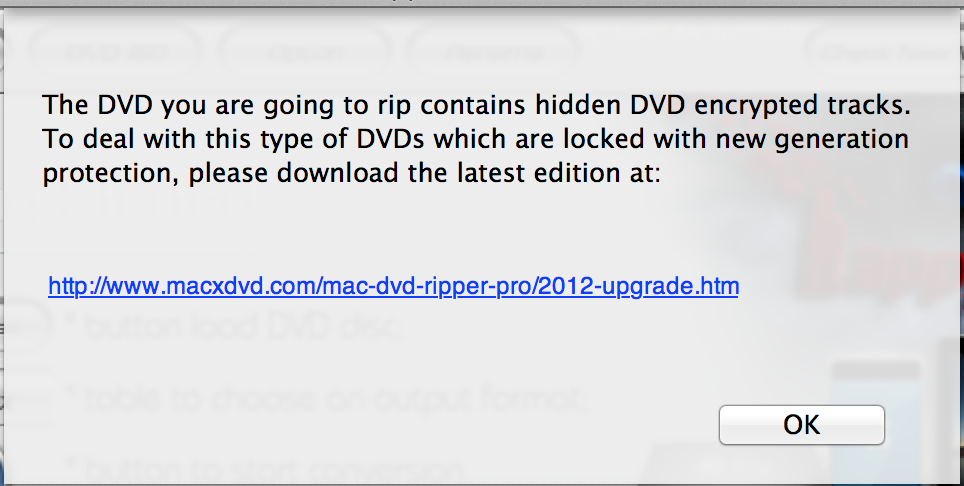 This message appears regardless of which DVD is in the drive (even very old ones that were released well before "MacX DVD Ripper Pro" itself was released), and even if no DVD at all is in the drive. So it is obvious that the above is not the truth, but a lame excuse for not telling you the truth that the software was time-limited from the very beginning.
Mind you, I'm not complaining about the fact that the software is time-limited as such. Even a software that is free only for a year or something is still a nice gift. What I'm complaining about is that MacXDVD Software, Inc. is lying to me. Why did they not originally include the notice that this is a time-limited copy of the software only?
The solution to this problem of course is to again set back your system time. This is not very convenient, but if you only occassionally rip a DVD it should not be a big problem.